Gilles Clément and the Editorial Board present their new book: GARDEN'S, LANDSCAPE AND NATURE'S GENIUS by Gilles Clément

Book Launch:

Book Launch:

GARDEN'S, LANDSCAPE AND NATURE'S GENIUS by Gilles Clément

A conversation with Gilles Clément and the book's Editorial Board

From 4. to 12. December 2020
Part of Nature as Infrastructure - A proposition by The Winter Office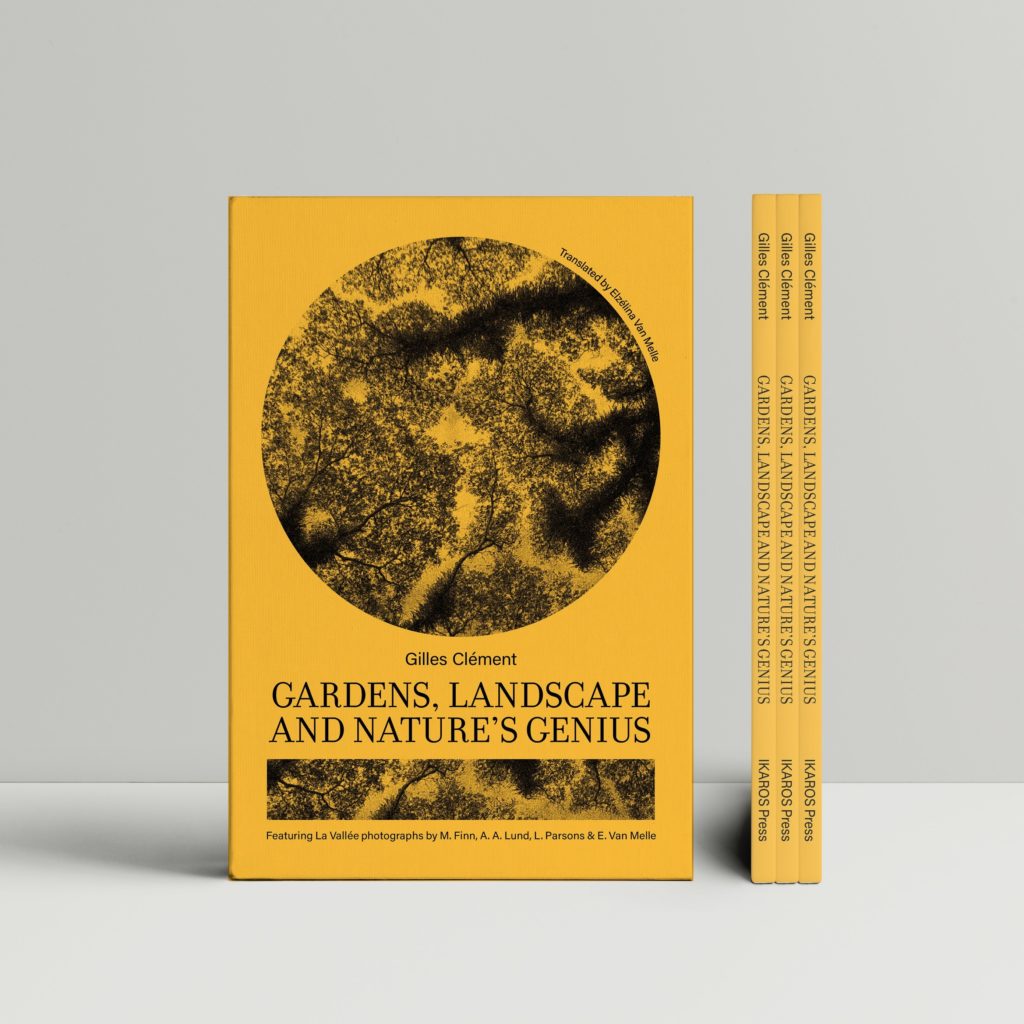 Garden's, Landscape and Nature's Genius.

By Gilles Clément
Translated from French to English by Elzélina Van Melle
Featuring photographs by M. Finn, A. A. Lund, L. Parsons & E. Van Melle
Published by IKAROS Press, 2020

You can order the physical copy (17 EUR / 129 DKK) or ePub (12 EUR / 89 DKK) version

Get the book and a 20% Discount (offer valid until the 24th of December)
with this code: Gilles20 (case sensitive) via www.ikarospress.dk

This video is short introduction to the book Garden's, Landscape and Nature's Genius by Gilles Clément will be followed by a discussion, where Elzélina Van Melle, the translator of Clément's text, has invited a panel of guest speakers that includes Gilles Clément himself, the book's editorial board and Ellen Braae, IKAROS Press. They will discuss some of the key concepts outlined in the book for rethinking our relationships with nature, garden culture, and sustainability together with Hugo Hopping (artist and director) from THE WINTER OFFICE.
Gilles Clément occupies a special global position at the crossroads between philosophy, ecology, art, and landscape architecture. Over the years, he has contributed a number of fundamental concepts: The Planetary Garden, The Third Landscape, A Humanist Ecology, and The Garden in Motion — constantly driven by his dictum of always working with nature, never against her.
The book, Gardens, Landscape, and Nature's Genius, intro­duces the authors's key ideas. Originally written in 2011 as Clément's inau­gural lecture at the prestigious Collège de France in Paris, the text is now translated into English and accompanied by Clément's own illustrations and a selection of new photographs from La Vallée garden in Creuse – his remarkable planetary laboratory. This book is a rare opportunity to access Gilles Clément´s original mindset and gain insight into a place of inspiration and co-creation with nature. Clément's words and work are more relevant now than ever, presenting a tremendously powerful and relevant impetus for rethinking our present and future relationships with nature, garden culture, and sustainability.
Elzélina Van Melle is a French landscape architect specialising in naturalistic planting design, edible gardens and urban greening. She Graduated in Landscape Architecture from Versailles (ENSP), and holds a Bachelor in Applied Arts from ESAA Duperré in Paris. Since relocating to Denmark in 2011, Van Melle has worked to disseminate the thinking of her mentor Gilles Clément through both her teaching at University of Copenhagen. Clément's Planetary Garden concept has been instrumental to Elzélina's company, EVM Landskab, which promotes plants and biodiversity in urban development; designing with and not against nature.
Anna Aslaug Lund is a Danish architect who holds PhD in landscape architecture and has extensive practical experience working with urban development, landscapes, climate adaptation, and sustainable cities. In her PhD thesis, ROOM FOR RAIN: The city as a Garden and the Future of Streets, she examines synergies between sensuous and social qual­ities and landscape-based rainwater solutions in urban street-scapes. Just as the gardener masters the relationship between the ecologies of nature and the spaces of the garden, Anna highlights the need for architects, landscape architects, and urban planners to master the integral relationships between both ecologies of nature and the ecologies of urbanism in relation to the spaces of the city.
Maria Finn is a Swedish artist with a joint PhD from the Royal Danish Academy of Fine Arts and University of Copenhagen's Department of Literature, Cultural Studies, and the Arts (2010). From 2017 to 2020, she was a postdoctoral fellow at the Section for Landscape Architecture and Planning, University of Copenhagen, and in 2019, her practice-based research project Forgetful Nature was presented in the solo exhibition Careless Nature at Møstings Hus, Copenhagen. Maria's artistic practice explores how environmental surroundings influ­ence human behavior, with particular focus on the themes of fiction, time, and landscape.
Laura Parsons is a British landscape architect graduated from University of Copenhagen in 2014 with a Master's in Landscape Architecture. She has since worked at a number of Copenhagen based studios. In 2017, she founded her own company, where among other projects worked as a consultant for Länsstyrelsen Skåne (County Administrative Board Skåne) Sweden, with nature conservation and responsible tourism. Recently she moved to Alpes-de-Haute-Provence in the south of France to start a new practice focused on sustainable and ecological approaches towards gardening and small scale farming. Her design philosophy is deeply in­fluenced by Clément's theory of humanist ecology, which necessitates that the natural world and humanity cannot be understood as separate from each other.
Ellen Braae is the director/publisher of IKAROS Press, a small high quality publishing company specialised in architecture, landscape and urbanism. On a daily basis, Ellen is professor of Landscape Architecture at the University of Copenhagen focusing her research on post-industrial landscapes and on 'welfare landscapes'.
Hugo Hopping is an American artist who often works with video, photography, drawing and other mediums as part of his conceptual art practice. In addition to his artistic activity, he is involved in writing about art, architecture, and cultural history. He is also the co-founder and director of THE WINTER OFFICE (est. 2010), which is a work-group exploring experimental art and architecture projects. He lives and works in Copenhagen.