The Meek Shall Inherit the Earth by Raul Baltazar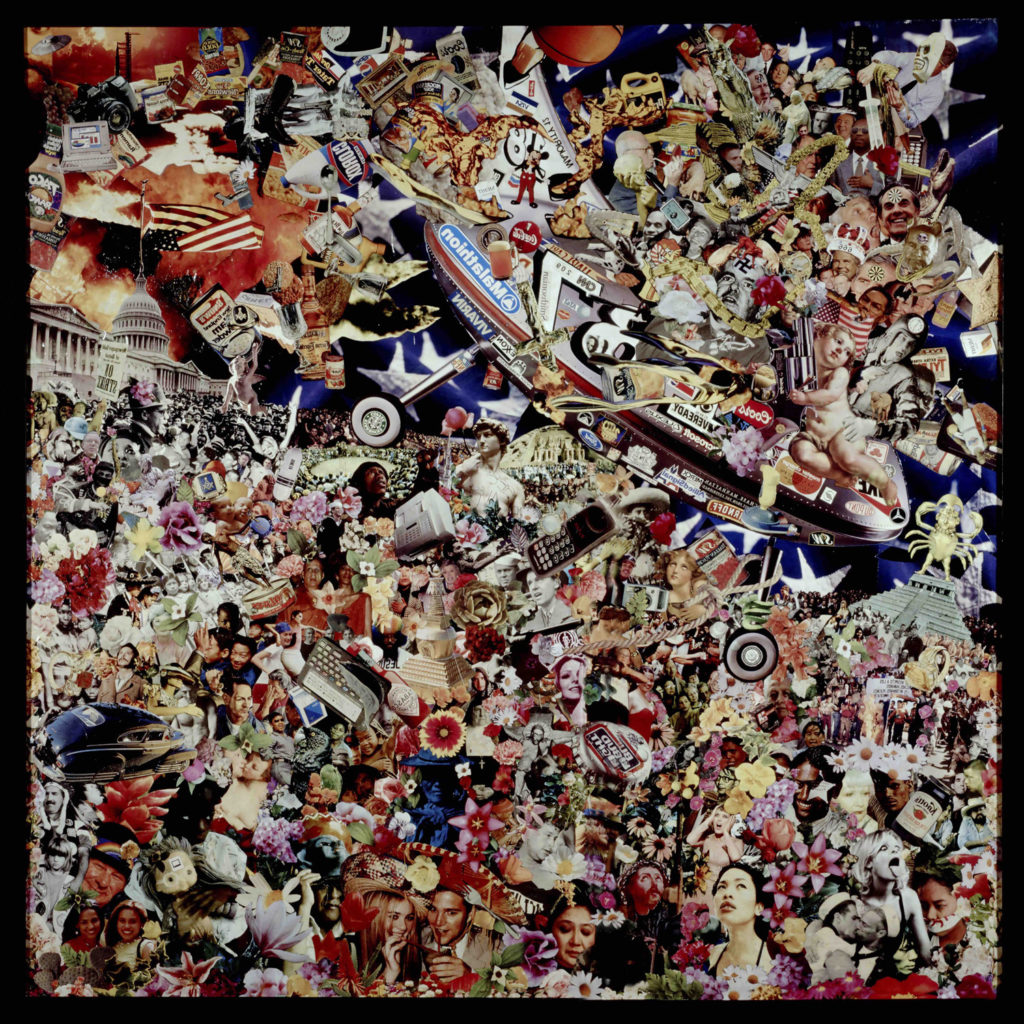 The Meek Shall Inherit the Earth
by Raul Baltazar
1996/2020
Collage
100 x100cm
As part of Nature as Infrastructure - A proposition by The Winter Office.
'The Meek Shall Inherit the Earth' was an analogue or hand cut collage. The composition was made of an assortment of images from the 1990's, which had been sourced from an array of printed media including magazines, flyers, books, and even invitations. The explosion of images captures the onset of globalization, and mirrors back the visual content and media that has informed human consciousness and subjectivity over the last several decades. At the same time, it offers a nonlinear narrative of late 20th century history with which to now reckon with and make sense of.
The original collage was destroyed and only a 4 x 5" Color Transparency Film sheet survives. The planned intention for the exhibition was to produce a lithographic print and frame it for visitors of our exhibition space (which had been provided by Adélaïde and Atlantis Lumière for our contribution) within the frame of Manifesta 13 - Les Parallèles du Sud in Marseille. Due to the shutdown by the French Government as a result of Covid-19, and the subsequent loss of our physical exhibition in Marseille, the artist has provided us with a 'flipped' or 'reversed' version of the negative original for this virtual space. One that he has slightly manipulated and presented to 'us' to view from the other side of the American mirror. Perhaps offering, to those who take a careful and studied gaze of the image, a temporary grasp of the ruptured and strangely ever collapsing portrait of these last 25 years.

This version of the work will be still printed as a poster and available for purchase here
Raul Baltazar is a Los Angeles based artist working in a variety of mediums including collage, performance, video, painting, and community-based projects. His work is often driven by the struggle of Mestizo, Xicanx, POC and Mesoamerican Indigenous communities and their revolutionary vision for change in the context of Los Angeles. In this way, Baltazar seeks to decolonize contemporary art production by rooting his practice in the research of ancient cultures.
Baltazar received his MFA in Public Practice from Otis College of Art and Design in 2013, and his BFA in Sculpture and New Genres from Otis College of Art and Design in 2008. He has exhibited extensively in Los Angeles, and internationally and was the recipient of the California Community Foundation (2015), The Armory Teaching Fellowship, (2016), and Shortlisted for LA County Arts Commission (2015).