The making of solidarity has the verb "action"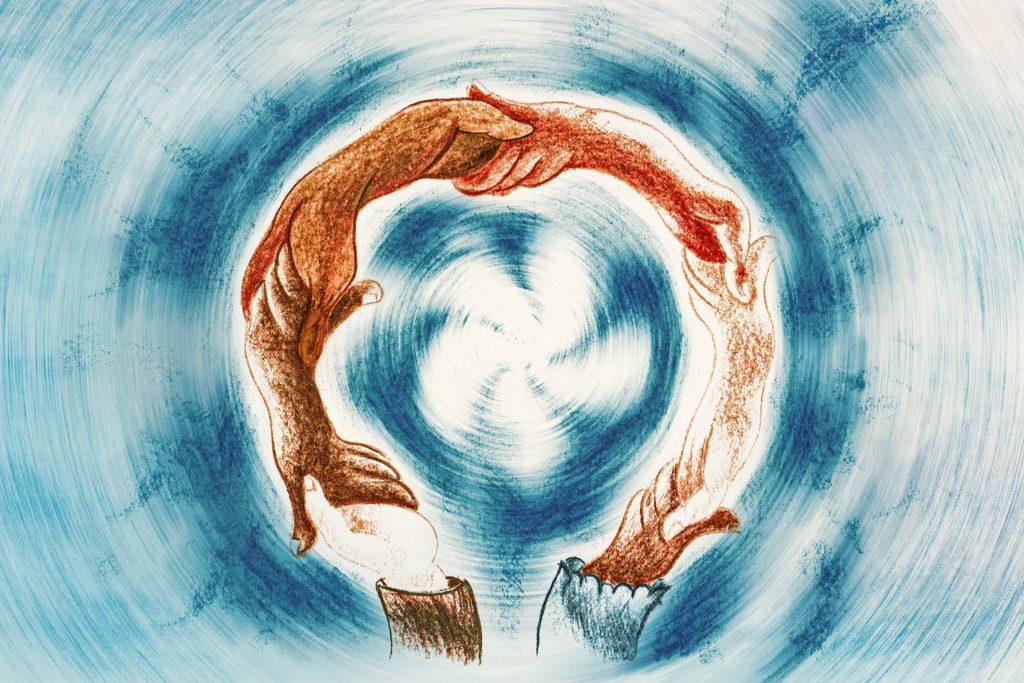 © Erik Tlaseca
Due to the urgencies brought about by the COVID-19 pandemic, in the past few years, we have experienced a kind of revival of solidarity. Our contexts saw themselves facing illness, the possibility of dying, loss of jobs, loss of loved ones, lack of resources to maintain a household, projects, and life itself. Those of us that managed to survive, raised and joined hands to keep on surviving. Not everyone had the same urgency, not everyone had the same tools, nor were they in the same position.
Perhaps we didn't have any other option, but the speech about humanity in an ark, rowing together against the tide, is nothing more than an old story that conceals structures that remained intact despite the exceptional nature of the event.
It seems, then, that solidarity comes hand in hand with crisis, with those extraordinary moments in which survival is at stake. It is also true that many of us have possibly been navigating for years seeking to stay afloat during those events that are absolutely common. We constantly invent and reinvent tools to endure. Those of us that had handled the oars sought to make ourselves strong beyond the limits of what was necessary and urgent. Or, to put it in another way: always in that tension.
Can solidarity be a tool that goes beyond immediacy? Is it possible to survive its demands?
I constantly ask myself about the place that solidarity can have within our lives and the importance of making our paths more solid. The road that needs to be traveled just to have the minimum amount of insight to not confuse solidarity with obligation, charity, subservience, and sacrifice.
That is why I continue to think that it is key to remind myself that the feelings that we go through when we face the other's pain are of the utmost importance. Social ailments, the lumps we feel in our throats, goosebumps, nervousness, the consequent nail-biting, or the constant lighting of cigarettes. When do you feel empathy? When "it's all of us" makes sense to you? When it does not?
I relive the moments when I saw myself forced to do something and in need of committing my body. When I close my eyes, I can again feel the multiple feelings that inhabited me: impotence, despair, doubt, fear, frustration. How do you act against the structural hydras? How do you do it without feeling small? How do you turn back time?
And then I remember the following story.
A not-so-close friend was put in prison a few years ago. We usually go to the Court of First Instance when something like this happens. Our hope is to find out the reasons why, and that we will be lucky enough to not have to be there for more than a few hours. In the face of uncertainty, we are usually accompanied by fear and an exchange of looks. Our eyes are about to burst into tears, our hands are sweaty as we cross our fingers that this will all be over soon. We tell each other the same stories over and over again. Some pretend to listen, others pretend to speak. Some decide to cry, many others try to unravel the legal and political weave of such an event.
In the meantime, we try to make the fact visible: a colleague has been detained, there is a danger that they could be thrown in jail. We spread the word and call for solidarity, which is basically reduced to propagating the news and calling for physical presence to add bodies and people to the cause.
In Mexico, there is a margin of 72 hours for a judge to determine a detainee's legal situation, that is: either set them free with or without a trial, or send them to prison. That day when our colleague had almost reached fifty hours of being detained, a second accusation was presented against them: a criminal matter. This indicates that legal times have ended and an indefinite time has been opened. Uncertainty increases, people lessen. It is at that moment that solidarity reverts its time, that the extraordinary begins to be normalized, that the clock hands change their rhythm and their ticking.
We quickly form a solidarity group when we have to face the deception of the legal processes. Anyone who is imprisoned needs a support network to survive. What's at stake is not their freedom, not in an abstract manner. The real threat is the sentence of death in jail, a death that comes dictated by the structure and existence of an institution such as the prison system. It is possibly a moment in which solidarity becomes unquestionable and fucking necessary.
However, the road is not simple. What one or the other understands as solidarity brings up discussions and marks distances. Differences and sensitivities take over the environment. Meanwhile, our imprisoned colleague wakes up in a cell, surrounded by bars. Things that might seem logical do not easily come to the surface. For example, to maintain someone like our friend, they have to be fed and to be able to communicate with the outside world, which is basically the social ties that support any person. The legal defense has to be sustained. Family members —who in many cases face their first experience with police repression— have to be accompanied. The prisoner needs to be visited. There needs to be constant dissemination of the situation, etc.
On that occasion, none of that seemed obvious. Our lack of experience made each occurence a novelty or exposed us to error. Little by little, we got to know how the prison worked and to move around it while dealing with the preferences and needs of our friend and their surroundings, etc. We began to give shape to that amorphous mass that presented itself to us through the cliché of inescapable and necessary solidarity. In whatever way possible, we had to form a pillar of support for our incarcerated friend, and equally for ourselves, caught by the long arms of the prison system. None of that is possible if you don't get your hands dirty in the act.
At times this obligation indeed comes to light. It deforms into responsibility and even impositions of duty. That's when solidarity suffers. When the obvious cannot be questioned and the dough is bought pre-made. When enjoyment becomes torture.
Since that experience, everything has changed: who is imprisoned, who gets involved, the jailers, etc. But the prison system remains intact. Well, not really. We have taken from it some of our friends that we have fed, visited, and accompanied so that today they can have dinner wherever they want. We have also lost invaluable beings. But above all, we have learned that solidarity is not blind, prescribed, or exceptional. It continues —and will continue to be— one of our weapons to be snatched from the language of power.
Georgina Faun, member of More Of Us
Read the first part of this text on More Of Us