Ndayé Kouagou & Harilay Rabenjamina

Ndayé Kouagou and Harilay Rabenjamina knew each other before collaborating with Triangle – Asterides. Back in 2018, their meeting could be seen as coincidental, and though they now belong to the same artistic family, they represent a very specific aspect of the French and European art scene.
If, at first glance, the connection is not so obvious, their practices carry similarities and echoes, which Marie de Gaulejac, the curator in charge of the residencies, did not fail to notice. As a result, the idea of a three-way conversation was born. Whether it is the place they give to writing in their works, the link they make between video and performance, or their astrological sign, many parallels can be drawn between them.
𝕿𝖍𝖊 𝕲𝖔𝖔𝖉 𝖆𝖓𝖉 𝖙𝖍𝖊 𝕭𝖆𝖉 is a contemporary (art) tale. To learn whether our intuition was right, and to discover which one of the two is the good guy, we suggest you to read what follows. Only then will you understand the role of this (my) third voice.
𝕿𝖍𝖊 𝕸𝖆𝖎𝖓 𝕮𝖍𝖆𝖗𝖆𝖈𝖙𝖊𝖗𝖘
𝕹𝖉𝖆𝖞é 𝕶𝖔𝖚𝖆𝖌𝖔𝖚
Ndayé Kouagou (1992) is an autodidact. After starting his career in fashion, he turned to performance art. His works are monological discussions based on texts he wrote. He embodies them in front of the public and displays them on the walls of his exhibitions.
At the end of 2020, during his residency at Triangle - Astérides, he developed Good People TV for Parallèle festival. He asked and answered questions all audience members should think about if they truly aim to become good persons.
𝕱𝖑𝖔𝖗𝖆 𝕱𝖊𝖙𝖙𝖆𝖍
Flora Fettah (1994) studied at Sciences Po Bordeaux and EHESS. She is a curator and art critic. Although she works mainly with artists of her generation, she is more generally interested in the way artists are capable of revealing the tensions at play in a given region, and the place that is attributed to unofficial cultures and discourses. Since March 2021, she is in charge of Triangle – Astérides' digital platform, Bruise Magazine, through the development of its editorial line and as one of its regular contributors.
𝕳𝖆𝖗𝖎𝖑𝖆𝖞 𝕽𝖆𝖇𝖊𝖓𝖏𝖆𝖒𝖎𝖓𝖆
Harilay Rabenjamina (1992) graduated from the Beaux-arts of Bordeaux. He developed his practice through performances and musicalised films, in which he embodies numerous characters. At the beginning of 2021, during his residency at Triangle - Astérides, he created a series of videos, is this my bio?, which resemble episodes from TV shows – or from YouTube channels. Through them, Harilay releases advice, love and feelings.
𝕿𝖍𝖊 𝕰𝖓𝖈𝖔𝖚𝖓𝖙𝖊𝖗
FLORA
How did you two meet?
NDAYE
Harilay and I met during a performance night organised by 𝕿𝖆𝖗𝖊𝖐 𝕷𝖆𝖐𝖍𝖗𝖎𝖘𝖘𝖎 at Lafayette Anticipations (Paris). He invited us to participate, next to 𝕮𝖗𝖞𝖘𝖙𝖆𝖑𝖑𝖒𝖊𝖘𝖘 (Christelle Oyiri). Since then, we all move in the same direction and follow each other. We didn't plan it and it just happened like that, we're family. Thank you, Tarek.
HARILAY
Yes but actually, I recall that we met one week earlier, at Gaîté Lyrique, on September 27th 2018, during OkLou and Krampf's presentation of Zone W/O People.
FLORA
And since then it appears that you have participated to several events together.
HARILAY

There was Lafayette Anticipations, and its continuation at Auto Italia in London, Central Fies in Italy, Urbaines in Lausanne and, finally, Triangle - Astérides. It's quite funny when you think about it, since it's not like one went first and asked the other to come along. Things happened simultaneously, almost by chance.
FLORA
We could think of you as belonging to the same artistic family, therefore it is likely that you will attract people who are focusing on your scene.
NDAYE
I have the feeling that we are responding to a same need too – I wouldn't be able to tell you precisely which one, but we are clearly serving a demand that exists today.
I was happy when 𝕸𝖆𝖗𝖎𝖊 told me that my work made her think of Harilay's because it's not everyday that I am told that about someone else, and that I can actually see the connections. We have a lot in common and our approaches are similar, so I figure it's not all coincidence.
HARILAY
And what is it then?
FLORA
There is the fact that, in your works, regardless of their form, you both explore trains of thought under the cover of innocent questions.
NDAYE
I like to play the innocent card.
HARILAY
Yeah it's something we both do.
NDAYE
Last time, I made a list of our similarities and there is a certain logic I'm beginning to understand. To start with, there is an economy of means: our self is the first tool we have access to. We are the product that we use and that we put forward during our performances. I am my best tool. I wouldn't be able to direct someone else's performance; I've never been trained to do it.
𝕻𝖊𝖗𝖋𝖔𝖗𝖒𝖆𝖓𝖈𝖊, 𝖁𝖎𝖉𝖊𝖔 𝖆𝖓𝖉 𝕸𝖚𝖘𝖎𝖈
HARILAY
And isn't that something that you would want to do? I would personally love it.
NDAYE
Yes, but can you do it?
HARILAY
The truth is I wanted to make films at first, and write stories around several characters. So I really didn't think about performing. Did you?
I was writing dialogues for my films and, when I went to Athens as part of an exchange at the end of my studies, I had the opportunity to perform and I realised I enjoyed it. Now that I think about it, I presented a performed conference for my fifth-year degree.
NDAYE
Initially I wanted to become a performance artist, that's really what I dreamt of doing. Making objects was something I didn't think about at all.
GOOD PEOPLE TV - ÉPISODE 1 - Ndayé Kouagou from TRIANGLE - ASTERIDES on Vimeo.
FLORA
Harilay, you've been making films for a while now, but in your last video series, is this my bio? (2021), the performative dimension is quite powerful and almost predominates over the video format. Ndayé, you've also produced a video for Parallèle festival. I suggest we have a closer look at your personal approaches to this medium and at the ways you connect it (or not) to your performance practice.
NDAYE
Performance is what matters the most to me. That's what I want to do. Even if I produce something else, it should always lead to performance. The video you just mentioned should make you want to see me in real life and give you an idea of what it's all about. This being said, if I had the means, I would have made videos sooner – Parallèle's funding helped get that started and as long as I will have the money to do it, I will continue.
HARILAY
As for me, I would say that the videos that are related to my performances, such as TGK (2018), function in quite a similar way to theatre or opera: they are a piece of a larger whole. Video is a response to things that happen when I'm there, to things I say or I read, to the music that is being played. Narration circulates between my body and the video that's behind it, but it is not an object that I show separately from the performances.
However, this hyper-present aspect of performance is frustrating at times as I have the impression that it makes people forget that I make films. So what makes me really happy about is this my bio? is the fact that performance and film are practices that happen at the same time. It was fun to simply get onto the stage, just as you would do for a performance, and then add all the work related to the shooting, the voice and music recording, etc… By the way, Ndayé, are you still making music?
NDAYE
Not that much if you mean music alone. I compose introductory music for my performances or for some other things, but it's clearly not my practice. I don't see it as an object, but as a tool, or as an element of a bigger work. It was important at some point, but ultimately it was frustrating not to be Travis Scott.
FLORA
Music is also an important part of your practice, Harilay, isn't that right? Would you ever want to create a work that is entirely musical? ;
HARILAY
Yes, very much so. But I'm not there yet. It's only recently that I have been using my computer to create music; the first time was in 2018, when I created the song for TGK.
FLORA
Talking about sound, Ndayé, was the voice in Good People TV (2020) recorded at a later stage too? The voice of someone else?
𝕾𝖔𝖈𝖎𝖆𝖑 𝕻𝖊𝖗𝖋𝖔𝖗𝖒𝖆𝖓𝖈𝖊 𝖆𝖓𝖉 𝕬𝖚𝖙𝖔𝖋𝖎𝖈𝖙𝖎𝖔𝖓
NDAYE
Yes, it was. First, I don't like my voice being recorded. Second, using a female voice has the dual power of both suppressing and increasing the possibilities of identification. You've got this image of a black man in front of you, with a woman's voice, and it becomes no one and everyone all at once. And that's my work's great research.
This is something I was actually thinking about, and which also works for Harilay I guess: in our work, we are looking for universality. The word is frowned upon, but I am talking about universality in a way that can also be applied to the people we see and live with. This goes against a certain tendency, in contemporary art particularly, to always seek things that are niche, exceptional. What makes me laugh about us is that we could actually play this card, and stand out because we are queer, children of immigrants who grew up on the outskirts.
HARILAY
If I'm getting this right, you're actually saying that it goes against the narration of intimacy? I agree with you, but I also think that our works are extremely intimate. Whether it's in your performances or in my own work, is this my bio?, we both rely on associations of well-known, familiar words, which can have a slogan, punchline dimension, but which also evoke the character's intimacy.
NDAYE
It's true that I'm into generalities. If I manage to say something slightly deep while remaining general, I'm the happiest of men.
HARILAY
And I feel this goes beyond our work. In is this my bio? I say general things because I actually believe in them in real life – and it's the same for you, isn't it? Sometimes when I speak some people roll their eyes. It's true that these things are popular, widely heard, even familiar, but that's precisely because they are full of meaning.
FLORA
What I find interesting is that this generality, this triviality has a real place within your work, and that you almost rehabilitate it through writing. Trivialities lose their meaning when they are used to say nothing, between people who don't really want to talk to each other. In your case, the use of generalities allows you to reach a universal content, in that it favours the understanding of your speech and an identification process that touches everyone.
NDAYE
I like the fact that no one can feel offended by some generality, even if the idea behind it may be harsh. I always consider writing as my main practice. I write and I will continue to write no matter what. Performance and contemporary art allow me to make a living out of my writings.
If I worked in a bank, I would come home at night and write stuff. Words are what matter most to me. And communicating an idea without being cryptic is, in my opinion, the definition of success: being able to say something clearly, without using complicated words, by means of generalities, is the Holy Grail. If I combine the three, it's the best sentence: I can say it to my mother, to my uncle, to Marseille during a performance, and to people anywhere else.
HARILAY
Of course, remaining accessible is important; I enjoy showing my performances and films to my family, and knowing that it speaks to them. This is when the familiar meets the universal, thanks to the staging of well-known, widely spread words and expressions.
NDAYE
Now that you mention this idea of spreading, I believe it is important to take a look at the forms we choose, since they are quite common ones. Our videos very much have that YouTube-like aspect. There is also a one-man show feel to our performances. These things exclusively come from popular culture, and it's neither voluntary nor involuntary, because the truth is that I have no other inspiration. Contemporary art is not something I use or that inspires me; instead I transcribe and communicate forms that are closer to those I actually see.
FLORA
What interests me in your works is exactly that: they make me feel smart. They don't require a degree in art history or theory, they rely on references I already have and, as a result, I feel like I have all the keys to understand them. And I think this is important. Too often museums or galleries confront us with ultra-elitist contents, which make us feel stupid when reading or contemplating them.
NDAYE
Yes, but I must admit that I love playing the contemporary art game. Outside my work's form and content, I am the person who plays by the rules of contemporary art the most. Let me explain: even though I am critical of it, I don't look at it in a totally negative light, in fact, I am not overly critical. I'm not scared of the market for instance, or of making money from it. And that's one way of playing the contemporary art game – rejecting it is a different thing. The challenge is to tell my life story, what I do, where I go and what I think, without letting any part of my private life out.
Is this my bio? #1 (trailer) - Harilay Rabenjamina from TRIANGLE - ASTERIDES on Vimeo.
FLORA
Both your works give an interesting place to autofiction since the character you embody is the recipient of the story being told; it's about you, without it really being you. It's something quite important for artists of our generation to give a space to individuals and to ourselves – maybe because that's how we are supposed to exist today.
I have the feeling that you both use selfishness as a motif, a rhetorical tool that echoes who the viewers are. For instance, in is this my bio?, the character, who oscillates between irritation and gentleness, is very self-centred while offering advice. We feel that he has a hard time being an individual. The same could be said for TBH, if it's not about me I'm not really interested (2020), which reflects something quite real and common.
NDAYE
That's the goal for me. If you can identify to my text, I've won. The more people can identify to it, the better. I like to imagine who my audience is; for example, if a straight guy really digs the performance then it means he is able to identify with me, and it's so cool. It's silly, but I like bringing people together through this form of selfishness so that we realise that we are not so bad after all with our "me, me, me". This "me" has been created to allow everybody to identify to this false "me", which truly is an "us".
I also enjoy using forms that have a bad reputation, such as the loser or the egotist, and turn them into something positive. For instance, I am selfish because I want to do what I want, but it doesn't matter because all I want is to do good. Same with the loser, I like to say that it's the best position in the world because nobody will ever judge you since you already are a loser. So I often start by putting myself in positions where I'm either not being pointed at, or on the contrary, being so pointed at that I can do what I want and it becomes a real position of freedom.
HARILAY
This process is a real writing tool and it's also what brings us closer to stand up shows. We take the stigma, we unwrap it and, ultimately, we defeat it. In general, my characters are not confortable with the idea of performing what they try to be or what they are. And since we are that which is different and weird, people will always be able to identify, especially in regard to difference or doubt, because our performances become the mirror of social performance.
NDAYE
You play a lot with the gap that exists between what your characters try to be and what they are.
HARILAY
Yes, I stage this awkwardness because it's also something I can't help but feel too. But then it goes back to the question of legitimacy and doubt, and to the fact that we are very self-centred, though this is a characteristic most people share.
NDAYE
The thing that comes to mind and that I recognised in Harilay straight away - since I discovered him through TGK - is the question of success. The spotlight. And for me that's an extremely important point: that's why I love YouTube: you realise that the only reason why some youtubers really succeed is their own person, even though they were never meant to make History. It's really thanks to weird formats, through a camera and bad filmmaking that you will be able to identify with them and that the connection is created. In my opinion, YouTube is the loser's victory.
HARILAY
This idea of emancipation through success is a recurring element in youtubers' speeches. It's also a hugely widespread form, which we know by heart. What I truly try to do with is this my bio? is to re-appropriate this motif, which I simultaneously criticise and believe in. It doesn't matter if it's been heard a thousand times.
FLORA
We talked about generalities but, actually, you both transmit them through an ultra-individualist model, by creating a character with whom we can easily identify. It's not about making things more general via exhaustiveness, as in documentary works for instance, but about individualities and the precision of ordinary anecdotes, which eventually bring us back to ourselves.
NDAYE
I offer a rewritten version of myself, and I feel that Harilay does the same. We offer exaggerated versions of ourselves, from which we remove a whole series of characteristics. When I perform, I become a binary person: I am 100% confident and I am 100% doubtful, all together. Obviously, in reality I exist between these two poles, but in my performance it's 100%.
𝕿𝖍𝖊 𝕻𝖗𝖆𝖈𝖙𝖎𝖈𝖊 𝖔𝖋 𝕯𝖔𝖚𝖇𝖙
FLORA
Actually, the notion of doubt is among the things I wanted us to talk about.
It's strongly present in your characters, respectively, and it raises the question of legitimacy.
NDAYE
Legitimacy is something important because it plays a major role in our field and scenes. As far as I'm concerned, I didn't attend any art school and, instead, I entered a field that was totally foreign to me. It left me wondering how I was going to conquer it. Then I understood that you simply win it by being, and I almost found it sad, like it was too easy. But then I was happy because it made me realise that this was a space where people who were questioning their own legitimacy could express themselves more easily. So I said to myself - and this is my romantic side, my romantic vision of contemporary art – that, in reality, this can be a space that is perfectly adapted to us, the children of immigrants, the small-town fags, and all those people who suffer from real problems of legitimacy, whose right to exist is constantly being questioned. But then I don't know if it's true.
I think I need to believe in the possibility of better things. In many ways, I believe I represent a step forward: doing what I do, being what I am, compared to my parents and given my background, is a success for me. I don't want to think that I'm one of a billion. And that's why seeing these similarities between Harilay and me, in our work, even if our forms set us apart, reassures me and tells me that I don't come out of nowhere.
HARILAY
It's funny because I have the feeling that there is a very romantic thing going on with you, but at the same time, you are much more critical of your own words than I am.
NDAYE
It would be pretentious of me to come in and make any kind of statement. In fact, I would find it irresponsible. Even if there is only one person attending the performance. I would rather open the door to reflection, and trust people. I insinuate what I want to say, I don't tell it directly. I speak to them about my own thought process, about my doubts, and I ask them what they think about it. And then I hope it works its way into their heads.
FLORA
Could we think of it as a form of soft advocacy, of diplomatic criticism?
HARILAY
I think we are very different on that aspect. In my case, probably… Not sure about Ndayé...
NDAYE
Indeed, I allow more frontal attacks in my work. Not all the time, only occasionally. It's not meant to argue or to convince, it's more of a demonstrative thing. And it's linked to the question of legitimacy, which I like to play to with. I visualise the things I can or cannot ask, the things I can or cannot do. When you prepare a project, you make a promise: to the art centre, to the curators, to the public. It's like when I was asked to do a performance in French and I started it in English by saying " I personally think that people who do not speak French are idiots. It's the best language, the best country. And if you don't speak French I don't want to see you among the public, please leave the room".
HARILAY
Wow, really? What was this performance called?
NDAYE
A simple and easy talk about love (2019).
FLORA
We've figured it out: you're the bad guy.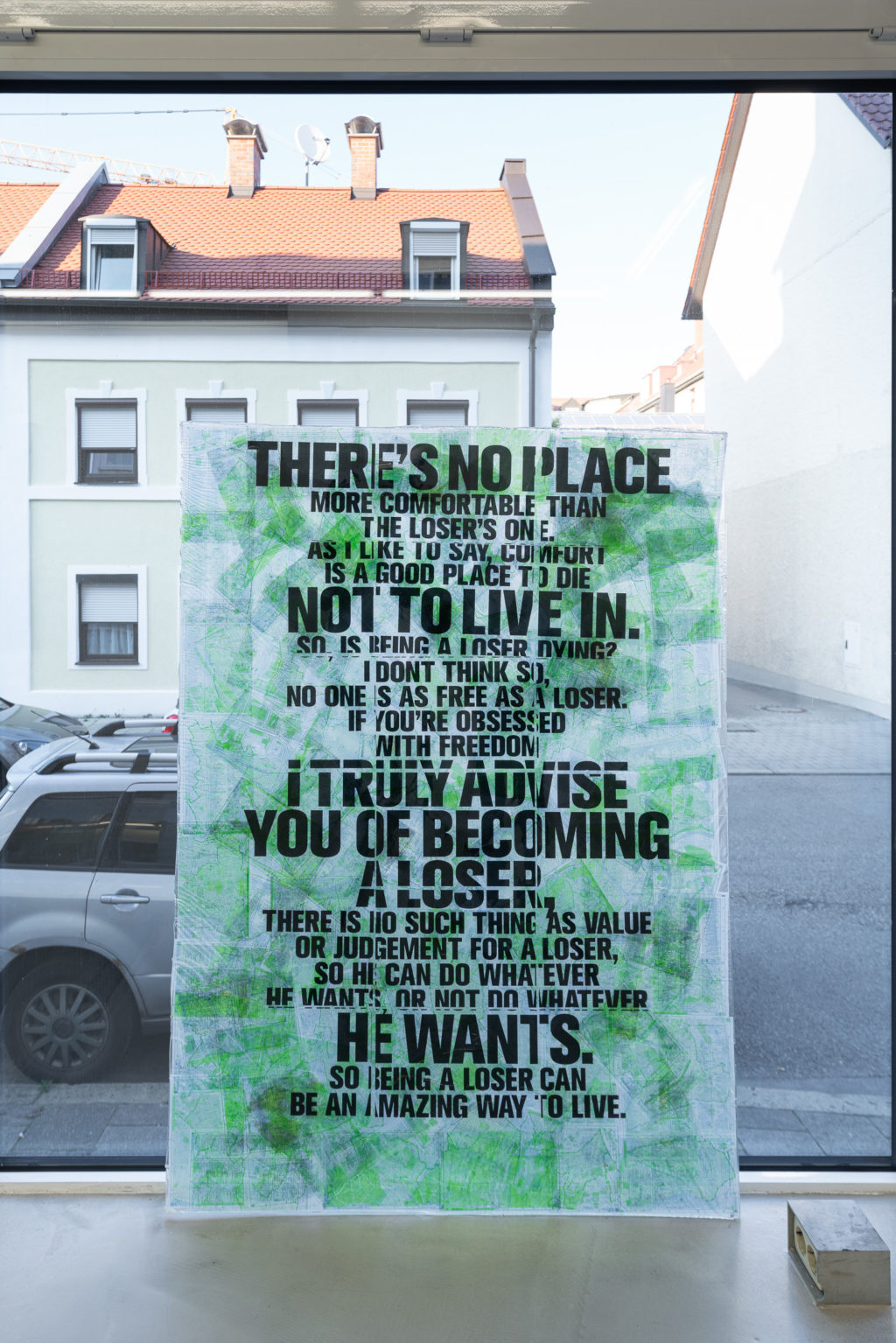 𝕿𝖍𝖊 𝖂𝖔𝖗𝖉 𝖆𝖓𝖉 𝖙𝖍𝖊 𝕺𝖇𝖏𝖊𝖈𝖙
FLORA
You, Harilay, are very good to your audience and to your characters. Sure, there is humour and irony, but we can feel that you love them very, very much.
HARILAY
Yes, it's true. Even when I try to create a villain, as in TGK, he eventually turns out to be a simpleton.
But can you really say that you don't like your character, Ndayé?
NDAYE
It's different. In your case, we can see your filmic background because you create your characters, and I don't. My characters don't have a personality or a psychology: I use them to express an idea, but they don't really exist.
HARILAY
Yes, actually, you don't create a storyline; it's a stream of thought, logical relations where one idea leads to a second one, and eventually to a conclusion.
By contrast, I have an initial situation, a location, something happens, a disruption. It's almost like that narrative outline you learn in third grade.
FLORA
Triggering element, ordeal…
HARILAY
Sometimes I really feel like I'm writing children tales, bedtime stories. However, in is this my bio? there is less of a unity of place, since there are four, yet the character is built as you go along. After watching the videos, you get an idea of who this person is. The difference between Ndayé and me is also costumes. Ndayé, you tend to look for something that is not rooted in reality, almost like a disguise. I use my own clothes…
Do you say your name during your performance?
NDAYE
No I don't. It wouldn't occur to me because it's quite disconnected.
HARILAY
Oddly enough I always use Harilay. They are still characters, but they are all called Harilay.
What interests me about performance is the use of my body and person to raise questions I ask myself. I like the idea of an open door to reality, even if the rest is completely fictional. And I'm that connection. And I feel that I am increasing it by being intimately involved. You, on the contrary, create a disconnection without it being necessarily fictitious.
NDAYE
Since it is not fictional, you might think it's a real direct expression. But in the end, even though I throw in some real elements, they function more as tools than as true information about who I am. For instance, in the performance I will only swallow my own fluid (2021), which I just made for T293 in Italy, I start by telling "I have four dogs and I live with my mother". I don't have four dogs, but it's a tool that I use to say: "are you really going to spend time listening to a guy who lives with his mother? You look convinced, but are you sure?".
Not having a character is one of the limits of my writing. It makes it difficult to write in long formats. When I write, I articulate lots of small pieces of thought, of little texts, written bit by bit, and I create connections between them.
FLORA
So, to sum it up, Ndayé you will be writing separate things for a period of time before you piece them together, while Harilay, you are more inclined to write a story.
NDAYE
But you don't really reveal your writing that much, Harilay. It is behind your work but you never put us in front of your text.
HARILAY
It's generally true. But in my current project, A guest of honour (2020 - ongoing), a real effort has been put into the booklet, through the writing of the dialogues. I would like to edit it and make what is said accessible. You, on the other hand, display the text directly.
NDAYE
Displaying my own words in large is a way of making it obvious that the text is my practice. That being said, I have noticed that there was a number of people who arrived in front of the text and didn't read it, they walked passed it to look at the artworks.
FLORA
Would you say that the production of material pieces is your way of responding to an economic imperative, an obligation?
NDAYE
Honestly, I find it quite funny because I've never done that before. But then, if you give me a million euros, I'm not going to make resin objects. For me, it's really a means to develop a sustainable economic model while finding ways to make it pleasurable. For instance, I do my own settings for my performances. For my solo at Nir Altman Munich, which is called Will you feel comfortable in my corner? (2020), I've built many corners to walk around during the performance. In that particular case, I am happy that these forms, which I've fabricated, exist, the performance gives them meaning.
FLORA
What about you, Harilay, do you make objects?
HARILAY
It's not something I've done much. At Beaux-arts, I created settings through big installations. My third-year diploma was just a setting with videos. I believe objects should support the narrative. For instance, at Goswell Road, I presented a table, which I consider more as a performance since it has the image of an appearing character and a text that he is supposed to say. These are actually the few objects I tried to make in the past three or four years. In trag & die (2017) there was the poster. To me it's really an object because it lived, it's worn. There are also photos. I wish there were more things like that out there, but I haven't had the chance. After all, it's not urgent for me to show them or to make them, right now I'm mainly into making films.
NDAYE
In reality, we both said the same thing. There has to be something written in your objects, something that exists.
𝕿𝖍𝖊 𝕴𝖈𝖔𝖓𝖘
FLORA
Do you have any piece of advice for the people who are going to read us, an artist that influenced or impacted your practice?
NDAYE
I have two names: Kanye West and Sara Sadik. I would have added Harilay, too, but he is part of the interview.
HARILAY
It's crazy I can't find an answer to that question at the moment.
NDAYE
That, you see, is another legitimacy issue. For a long time I was trying to figure that out and I felt I couldn't find any. But actually I have many; only these names don't necessarily belong to contemporary art. I could have included Lil Nas X, who is a real career model.
𝕷𝖎𝖛𝖊𝖑𝖎𝖍𝖔𝖔𝖉
FLORA
In her podcast Présent.e, the journalist and critic 𝕮𝖆𝖒𝖎𝖑𝖑𝖊 𝕭𝖆𝖗𝖉𝖎𝖓 ends all her interviews by asking the same question. I believe it's important to talk about money, which is still a highly taboo topic in France. So now that I'm with you, I'll borrow it from her: do you manage to live from your art?
NDAYE
For my part, I've been making a living out of it for a year now, but I'm telling you, it's not thanks to institutions. I owe it to my gallery and the way we thought together about the market. Institutions give you micro-budgets in comparison to theirs, and you are expected to work for two whole months on their project. That's not how I'll manage to buy Gucci for my dogs.
HARILAY
So far, I never had to have a side job, except when I was a student. With the RSA and small earnings from institutions, I get by. But I'll admit that I'm worried about the next few months.
NDAYE
I like this question, but I would personally ask about the investment you made to get there. I can say that I've invested between 10 000 and 14 000 euros per year, approximately. But it's not from my own money. That's what I often say to students: I don't pay rent, so each month I've saved 800€ of hypothetical rent, I didn't pay for food during the first couple of years, I live with my mother where my studio is also located. If I had to pay for all of that, it would cost me 14 000 € per year, give or take. So I've invested 14 000€ per year. And when you do the maths, you realise that it's a rich man's game. All the people who are where I am now have invested that money at some point. In Paris, a studio costs 500€ per month roughly, that's why I wouldn't have been able to make it in two years. With no studio, there's no possibility of doing my job. With a side job, there's no way I would be able to meet people and attend meetings at 2:12 pm on a Tuesday with such-and-such a curator or institution. If I had chosen to get my own flat, I wouldn't be here.
Interview by 𝕱𝖑𝖔𝖗𝖆 𝕱𝖊𝖙𝖙𝖆𝖍
Proofreading 𝕮𝖆𝖒𝖎𝖑𝖑𝖊 𝕽𝖆𝖒𝖆𝖓𝖆𝖓𝖆 𝕽𝖆𝖍𝖆𝖗𝖞
French-to-English translation by 𝖅𝖆𝖍𝖗𝖆 𝕿𝖆𝖛𝖆𝖘𝖘𝖔𝖑𝖎 𝖅𝖊𝖆