Commun.e - Contemplations on cultural formations, resilience, resistance and ways of being together
Conceived by artist and curator Ziphozenkosi Dayile, Commun.e examines the importance of local knowledge and practices of communal caregiving in the ongoing quest for community wellbeing and processes of decolonization. The programme is conceived as a springboard for further knowledge exchange and production, gathering multiple perspectives. Therefore, the programme unravels over several sessions that are events happening in Marseille and Cape Town over the summer 2021, and online restitutions on bruisemagazine.com.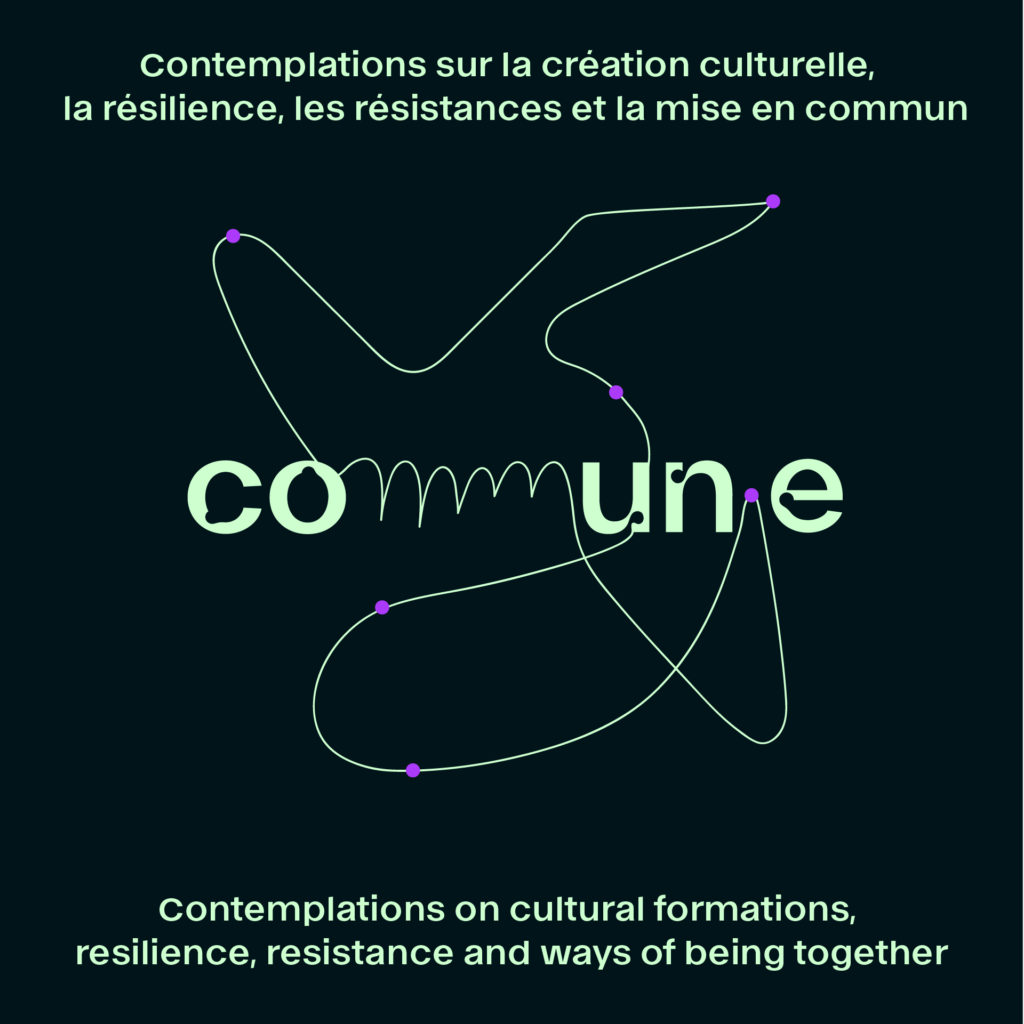 For the first session, on June 3rd in Mucem, Marseille, Ziphozenkosi Dayile and Flora Fettah are gathering artists and performers to look at collaborative and participatory models which artists employ to make space for critical dialogue on the future of our society. Altogether, we explored the ways in which projects in the field of performance, community, and other spheres are demanding a renewed imagination to dismantle current systems of power whilst providing space for new inquiries to converge.
The act of gathering is not something to be taken lightly - not only because of the current global pandemic but also because of many realities: yearnings, transformations on multiple fronts, for justice, for the opposing of the state of affairs that has become intolerable, for articulating a present from which a future could be imagined and for also a caring in many nuanced ways.
It is an important decision for one to abandon the idea of being one of these great powerful individuals recognized for its own creativity and instead to choose to spend most of our creativity and thoughts working within communities and collectives in various forms. So, for one day, we take a break from the focus on individuals and focus more on work that is created within circles, within scenes, or within groups.
Through this day, we are gathering and spending time together, we are attending poetic coincidences and thinking collectively about how to redefine our own idea of what it is to be in solidarity with others and of building communities.
Vir Andrés Hera and Eden Tinto-Collins are respectively developing their practice within several circles. The first one is working on the power relations between languages that he exposes in nonetheless poetic videos and within the editorial committee of Qalqalah قلقلة, a platform dedicated to production, translation and circulation of artistic researches in French, English and Arabic. Eden Tinto-Collins works around the notions of network and interdependence and applies it to her life and project: she is part of several collectives, such as Black(s) to the Future with whom she built afro-futurist archives or Gystère Live Gand that explore the protesting aspect of music genres.
Dorothée Munyaneza and Buhlebezwe Siwani met two days before performing together for the first time, with us and for us. Guherekeza, their common piece, means to accompany our departed ones, to bring them to that place of rest. During an hour they gathered around a dinner table people from the audience and so they became the guests of their nightmarish ceremony.
Belinda Zhawi merged poems. South x South East evoques two of her home: South-Est of Africa, where Zimbabwe is, and South-Est London, where she lives since she arrived in the UK. To her words, she is adding sounds, recorded in these two places, and then compares and connects the two geographies.
Moesha 13 aka Shaun performed during an hour and a half. Both a performer and DJ, they shared with us a musical score made from tracks they compose and sound documents they put together in situ.
The presentations and performances were followed by Q&A. Please click here to know more about Vir Andrès Hera, Eden Tinto-Collins, Belinda Zhawi, Buhlebezwe Siwani and Moesha 13.

Translation English to French : Zahra Tavassoli Zea
Photography by Grégoire d'Ablon
© Architectes Rudy Ricciotti et Roland Carta / Mucem