Conceived by the artist and curator Ziphozenkosi Dayile, Commun.e examines the importance of local knowledge and practices of communal caregiving in the on-going quest for community wellbeing and processes of decolonisation. The programme is conceived as a springboard for further knowledge exchange and production, gathering multiple perspectives. Therefore, the programme unravels over several sessions that are events happening in Marseille and Cape Town over the summer 2021, and online restitutions on bruisemagazine.com.

Commun.e - Session 1 : Contemplations on cultural formations, resilience, resistance and ways of being together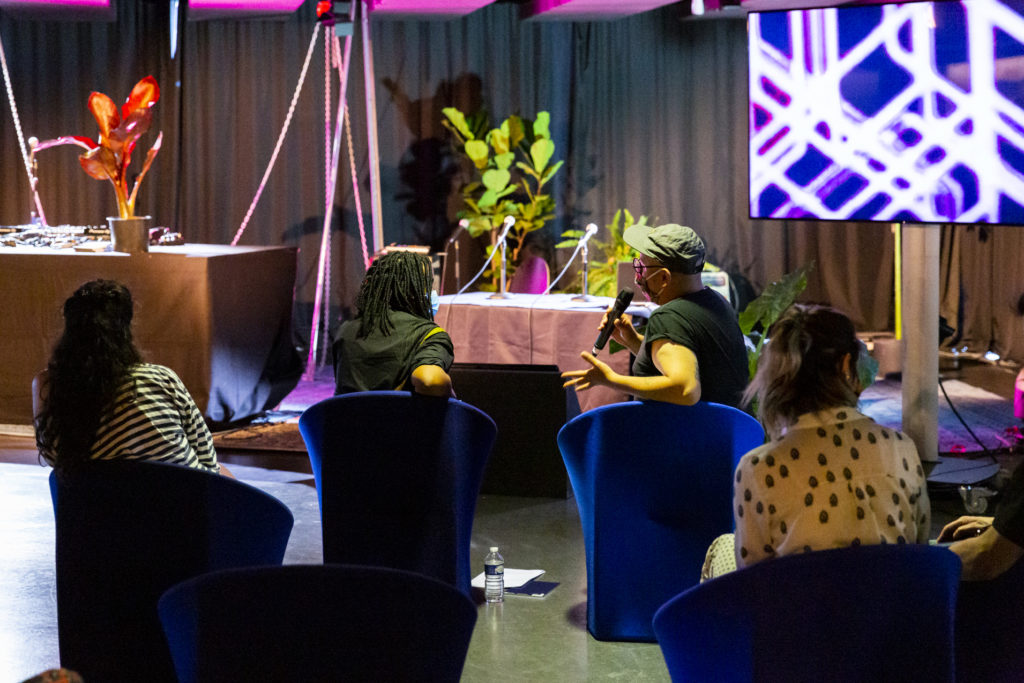 Following the various presentations, Eden Tinto-Collins, Vir Andrès Hera, Buhlebezwe Siwani and Belinda Zhawi spoke with the curators and the audience about their respective practices, the origins of their work and the role of community.
Ziphozenkosi Dayile: When I collaborate with other people, I feel so motivated that I often end up engaging in long-term projects. My motivation stems from the people who surround me, and I was wondering whether this was also your case, Eden, Vir Andrès? What is at the origin of the conversations and collaborations you commit to?
Vir Andrès Hera: To answer briefly, I will quote Emilie Notéris and her book Alma Matériau. She is a French author who focuses on different types of feminism and draws upon Audre Lorde's concept, "how to mother ourselves?" In my eyes, being part of Qalqalah is a bit like that; it's about choosing and guiding oneself in a certain direction. Emotions are an important dimension to create relations, to give time and energy, to get involved in a project and to take care of the people we host.
Eden Tinto-Collins: In most of the collectives I'm involved in, whether it is the musical group Gystère, the Black(s) to the Future project or even Yoke, the artistic dimension is, in fact, very much connected to life. We need to spend time together, eat together, take care of each other. The notion of care, which is very fashionable today, also shows how important it is, now, to work with this collective energy and to expand it.
Last night, with Flora and Zipho, we were talking about the network and the rhizome: however deeply theorised and academic these two notions have become, they echo a very simple reality. With Internet, for instance, we take part in a permanent exploration. Perhaps we are not fully conscious of it, since we don't necessarily have a super solid theoretical and referential approach to it, but I think it's really the new game we're invited to play, that of scrolling with our thumbs. This circulation is also very much activated by today's fashionable words: fluidity, hydrofeminism, and that kind of terminology – terminal since it's also a way of taking off to new spaces, of opening new horizons. This is something I would like to explore this summer.
All this makes me feel like asking something: I can imagine that there are other practitioners today, other people who are receptive to this collective energy. I wonder if water (because in Marseille it's really important) is an element that you use to think about these notions of fluidity, about this group approach.
First person in the audience: I developed an artistic practice and I have been living in Marseille for the past couple of years. I think that this link to water, in addition to landscape, is something that I often encounter here, it is very present. Within my own practice, the theme of water is important: for instance, I created an exhibition a few months ago where I collected sea water at Mont Rose, a gay cruising spot in Marseille. I poured it all over the exhibition space and on several other areas. Then there was a whole process involving salt crystallisation, etc. This idea of water as something that can be spilled over, that can move from one container to another, is something that appears quite clearly in this city.
Second person in the audience: Hello, I am also a practitioner. To answer your question, I think that water is very important in Marseille, especially from a political perspective. In France, it's one of the cities where children are the least able to swim, despite the fact that it has a daily access to the sea. There are very few municipal or easily accessible pools. In terms of industries and pollution, water is something very particular. That being said, I think many people can recognise themselves in this idea of "fluidity", of "liquid", as you said, and I believe it encompasses a whole lot of topics.
Marie-Rose, third person in the audience: Hello, my name is Marie-Rose, I am an artist and not long ago I started working with the Afro-descendant population because I realised that there weren't really any black Marseillais.
I noticed that water was very strongly linked to the black community in Marseille. In fact, after World War II, many Senegalese Tirailleurs who disembarked remained ashore because they could no longer leave. There is a rich tradition, a culture, which developed around the Port of Marseille, such as with the black dockers. This was very well documented by Ousmane Sembène in Black Docker.
Ife, fourth person in the audience: Hello, thanks for everything, thanks for your presentations, it was really powerful and generous, thank you for this immersion. I am a nomad, my name is Ife and I am a performance artist. I landed in Toulon, then came to Marseille but, since November, I am stuck here because of the lockdown. And so, my first instinct was to find the sea. Being far from the mothers and sisters who have always surrounded me, my first instinct was to look for the sea. The sea, like sea salt, provides this closeness, this material that heals and protects us.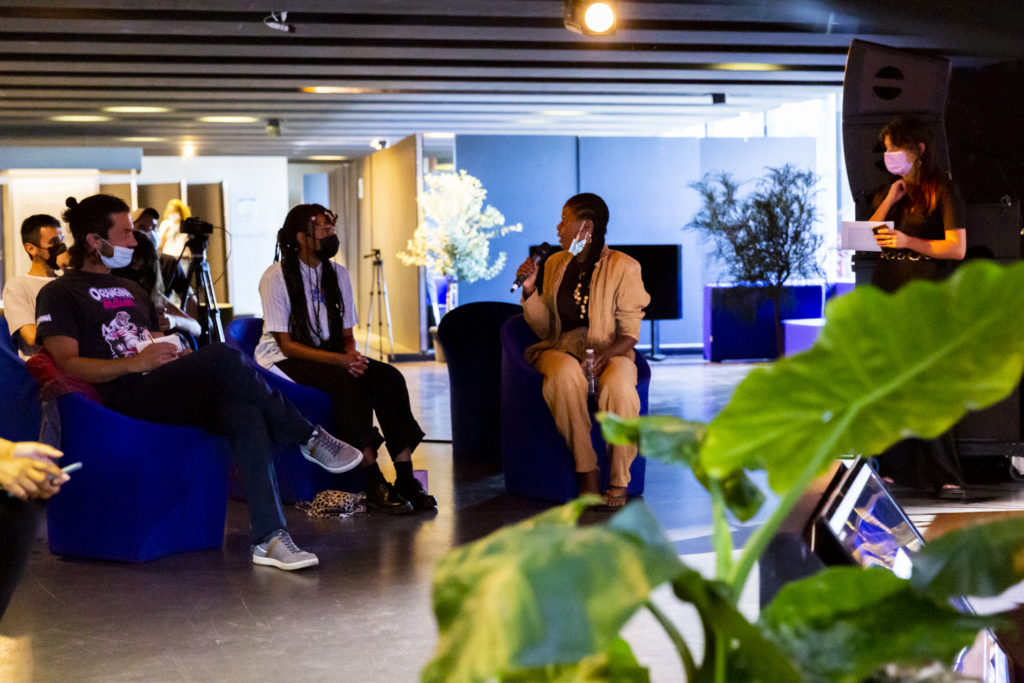 Fifth person in the audience: Hello, for my part, I live in Marseille but my work doesn't actually focus on the sea that much. I would have liked to know how you function with your different collectives and how you met the different people with whom you are working? How do you integrate this fluidity within your work? How do we form part of a collective and how do we leave it?
Vir Andrès Hera: To begin with, we mustn't forget that Qalqalah is a collective whose economy is fragile since, as art workers, not everyone has a fixed salary. I, for one, am an artist so my income is more or less stable, even low. Others have more regulated activities, so everyone works according to the time they can dedicate to it. We don't have a business approach to the project, at all; we don't generate money. For instance, the invitations we receive from schools or institutions only allow us to keep the machine running. When we have a bit of money, we use it to invite other artists, to pay for the maintenance of the platform, etc. It's fairly complex and we think it is important to keep this reality in mind, since it has an impact on the way we can carry out projects. For instance, from the moment we issue an invitation, to the actual completion of an Arabic-to-French or English translation, three months or even a year can pass by.
Eden Tinto-Collins: That's right. For my part, I am based in Paris most of the time, and my artistic practice was much more intense before the Covid-19 epidemic. There were places where we could meet with people interested in art and its practice, and I met the founder of the Black(s) to the Future collective, Mawena Yehouessi, at Villa Vassilieff, a place that is now closed. Ever since that encounter, we have pretty much created a common vocabulary, a new language to evoke issues that were important to us, such as the notion of inclusivity. We didn't have this word in mind, so we would use dots and dashes between words, because we noticed that, in terms of sound, it allowed us to hear various things. Quite often it all had to do with the wordplay order, which slightly resembled the vocabulary used by publicists. But there was also a poetic aspect to it, an opening that allowed us to breathe. Thanks to that, thanks to Mawena, I started writing and I published Bonne arrivée,of which I already read an extract. Then, the question I had concerned the way I could nurture this energy: I was studying at the Beaux Arts of Cergy back then, with a very vulnerable economy and ecology because I was working on the side. It was important to shield oneself and invest enough vital energy to be able to be everywhere, in a generous manner. It was complicated but we exchanged a lot, we created many encounters. Among them: Tarek Lakhrissi, Kengné Téguia, Josefa Ntjam, Fallon Mayanja, Nadir Khanfour... and an increasing number of people continue to engage with us.
One of the challenges is the accessibility to spaces: institutions, despite their power and resources, tend to invite individuals more than groups, and this makes it harder for us to organise events. Even though it contributed to us being dispersed, in my heart I believe that we will continue to work together; together but separately. Because the vocabulary and the time we all spent together in really, really tough conditions can never be forgotten. And so it continues, and it's an adventure that takes other shapes and which also allowed me, personally, to explore something I hadn't done before: music for example.
Thank you all for your testimonies on the subject of water, it was really powerful.
**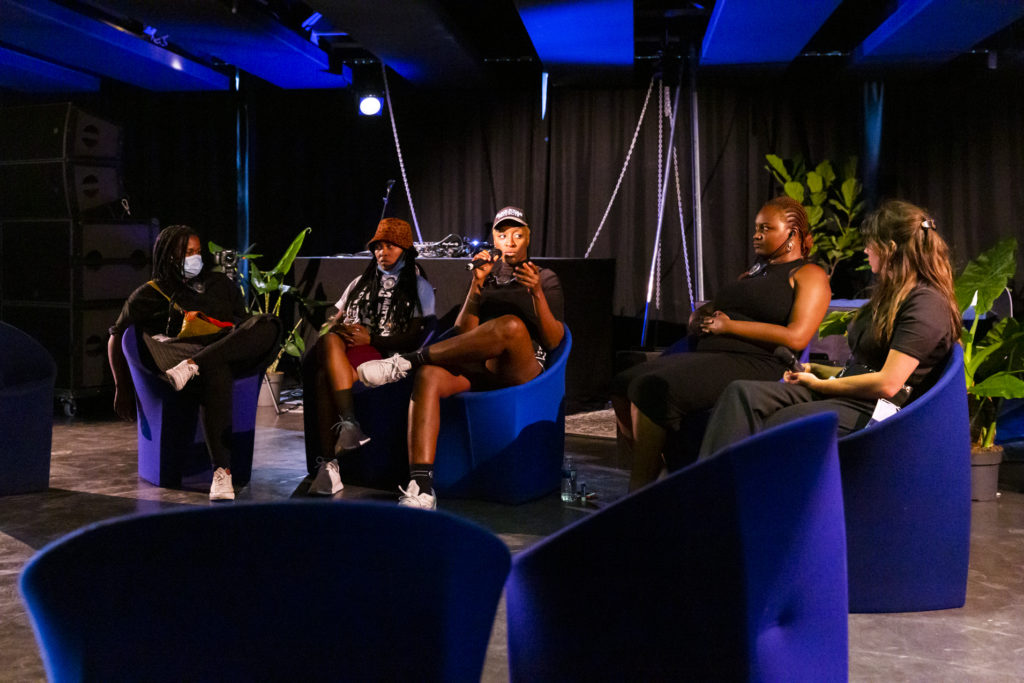 Flora Fettah: Moesha, thank you for this performance. It's really amazing to be able to share this moment with you, and to reflect together on your practice. I discovered it in the context of our parties, which are always intense and emotional moments, but not necessarily the best occasions for in-depth exchange. Commun.eis a time for reuniting and sharing resources, namely through collective practices. Working as a DJ and performer can appear, at first glance, quite solitary but I have the impression that, in your case, you often collaborate with other musicians or artists belonging to other artistic fields?
Moesha 13: Good evening. First I would like to thank all the people present because I felt an incredible energy and it was truly wonderful. Despite some technical constraints, such as the fact that people had to remain seated, the exchange was not limited. So thank you.
Indeed, I collaborate with many artists who are not necessarily in the same area or country as me. Internet allows us to maintain rather smooth exchanges, without limitations or barriers. With my music, with my ears, I also create links between things that seem distant. To me, they make sense, and it is a means to express things to which we wouldn't give space otherwise. I use many different media to create audio documents dedicated to post-colonialism. I compose them with material that is archived on the Internet from specific sites. Ultimately, they have more in common with a philosophical dissertation than with a DJ set.
You said earlier that I did many DJ sets and it's true, but what I find a bit sad about this observation is that, generally, DJs are not given the chance to express anything beyond entertainment, and it's difficult to convey a message. Things are different tonight, and I'm happy to be able to communicate some messages to an audience and not necessarily via the Mixtape medium.
Ziphozenkosi Dayile: Before starting my residency here, I was eager to work with artists and collectives from Marseille and France. But I was told, many times, that I wouldn't be able to talk about identities and its politics, especially regarding blackness, since France considers itself as an indivisible nation: there are no blacks, no whites, no colours. All of which means, for me, that there is no real History. So to hear artists, in a place like this one, speak out, take a stand, express their identities and tell what they are, I find that quite incredible. This idea of unity and of an unequivocal French identity makes me anxious, and I wonder how the people who work here are doing. Moesha, do you feel it as some sort of oppression against you? Do you feel like you only exist at the margins? Or is it all false and people have lied to me?
Moesha 13: Thank you for this question, because it touches on a painful past. You know that France struggles to face its colonial history, which means that, from the beginning, our education is not complete. History is defective; we only have access to one hundredth of it. We learn about the History of the French, but we don't learn about our History. We grow up without History. By being repeatedly confronted with a staggeringly silent wall, we developed a sort of inner resilience, of resistance. It's not a choice, it's a duty.
For some years now, black communities have been forming, but it's not easy; they are very often the subject of re-appropriation and "exoticisation". People led by interest will reclaim an original and interesting idea so they can make money out of it. Staying united is difficult, since people are taught to be against each other and not necessarily with each other. We are told that our motto is supposed to be "freedom, equality, brotherhood", but it's more like "divide and conquer". Black artists and communities who manage to stay together are those who don't have any other goal than to speak the truth and unite.
I believed, and I advocate that we are home, but, as a matter of fact, there is speech and there is reality. There is theory and there are the daily experiences of the diaspora. It's an uphill battle every day: you can do exhibitions, for instance, and think that everyone is united, that everyone is contributing, but there is always a moment when you're going to meet someone who reminds you that you're black.
Ziphozenkosi Dayile: Thank you. What you say is familiar and it resonates with our South African experiences, especially because apartheid made sure to divide us so that we, the people, keep on fighting for crumbs and not for the real things. It also echoes the art world and the way in which precarious people fight for leftovers but not for the steak.
I think that's what Buhlebezwe and Dorothée expressed during their performance. They have found a way to connect their personal stories with the Histories of their respective countries in order to create a work that shows that the tales on difference currently promoted are not real, they are not something we can aspire to. These stories will not build better communities or societies. We must start by recognising the things we have in common, and then build from there.
Today's performance was mainly improvised: Dorothée and Buhlbezwe had never worked together before. I wanted to bring them together for this session because, as I looked at their previous works, I thought they could talk to each other. Perhaps Buhlebezwe, would you like to tell us about your collaboration with Dorothée and about the way your backgrounds allowed you to create this performance together?
Buhlebezwe Siwani: I didn't know Dorothée's work because she is a dancer-choreographer and she works with sound a lot, whereas my work is more visual and performative, in a very different way. When she invited me, Zipho had expressed an interest in seeing how we could work together and develop a common project, because sound is important to me, and Dorothée uses it to a great extent. I arrived to Marseille on Monday and met with Dorothée the following day. We had lunch and talked for an hour and a half about where we came from, our fields of interest. I spoke to her about South Africa, about colonisation, and she spoke to me about the Rwandan genocide. The thing we had in common was the idea of blood and food, of soil, which could almost be seen as a mine of bodies, a food field that keeps our bodies alive even though it is filled with buried bodies. From that, an idea was born. We also talked about our home countries' policies, about how it feels to come from there and how it feels to be here. We agreed that it was important to organise a nightmarish dinner. Being in a museum in times of Covid came with its fair share of limitations, such as the inability to eat there. That's where the nightmare starts: you are in front of a beautiful table with food that you can smell and even almost touch, but that you can't eat. At the same moment, someone is drooling and dancing before your eyes. All these things indicate that there's something wrong, something dysfunctional and sick. That's where we ended up, and we fed off each other's energies.
Guslagie, sixth person in the audience: Moesha, I have a question for you about your relation to archives. I follow you on Instagram, and I've had the opportunity to listen to you once, but this is the first time I see you perform and hear you speak. It's interesting because Covid, masks and the fact that we're sitting allow us to listen carefully to your score. And I think that for someone who considers herself a DJ, artist or performer, it is always very interesting to listen to you in a place that doesn't have a nightlife ambiance. Your approach to archives is something I quickly noticed when I discovered your work. I would like to know how you fabricate these archives, how you coordinate them so they acquire a meaning. Each archival material arrives at a point between two pieces of music: either popular, or something that sounds like you dug it out of African memory. I would like to know how you work through this scenario.
Moesha 13: This question is actually at the heart of the challenges I set for myself. I did an MA in philosophy, so reading and research are important to me. At the beginning, I thought there were two worlds: the world of readers, of people who seek knowledge, and my own, that of popular culture. The principle of my practice was to translate my readings to the people in my neighbourhood; to look for ways to extract the message and share it.
I started by using several different media, but very often I used popular culture to be able to convey messages that everyone can understand. Then I felt a bit limited and the audio documents helped me a lot because I was able to read pages and add in sonorous backgrounds. Sometimes it's just a matter of playing pieces of music from a given place, but what's interesting there is not necessarily the message, it's just the fact that it exists, that there is a connection. Sometimes it's just Africans standing for love, it's simple yet universal. When it comes to my own performance practice, I've travelled quite a lot to Eastern countries because I was interested by encounters, by seeing how music can be exported, how exchange can happen in reality.
Seventh person in the audience: And how do you choose to end your score? Here, you finished with a text that you read to us, which explores this notion of "commun.e", but how do you finish your music? Because it could be endless, especially when you're fond of archives.
Moesha 13: Contextualisation is needed to answer your question: in general, my works happen in situ. Yesterday I came here to immerse myself in the place, to feel the energies, to talk with each person. The sum of this quest shaped the skeleton of the performance. Then, during the live experience, a lot of elements were added and energies started to flow again. I work a lot with the flow, according to a pattern that is close to Q&As. I can finish when I feel I've taken risks and exposed myself enough.
Flora Fettah: Now I'd like to turn to Belinda and talk about the way you compose your pieces. You use your voice, your words but also sound extracts that you insert, just like in the piece you shared with us today.
Belinda Zhawi: Thank you. The first fifteen minutes of this performance were a South x South Eastpiece that tries to create a connection between different places I call home: South Eastern Africa, namely Zimbabwe, and South East London, in the United Kingdom. I enjoyed this assembling process a lot, since it is central to the way I write poems: I compile as many things as I can before removing some, so as to only leave what's necessary. Most of the sounds I insert are recordings I made in certain parts of Zimbabwe, like in Harare, where I grew up, but also in the public transports of London. There's so much going on there, regardless of the hour and the place, mostly because London is a fascinating city, composed of a very big number of cultures, people coming from everywhere, and especially from the African continent. It's a very diverse city, but it's also a segregated city. I wanted to capture these sounds from different places and compare them with each other. Many of them were recorded in the early morning. It's the moment when you practically only see people that look like me in the public transports because they are the ones who clean the offices before people arrive at 9 am. Their silent existence allows the city to function. Having said that, it is a rather personal work on the connections I make between two places, two geographies. I remember that when I moved to South East London I really felt Zimbabwean and I used to say "I come from Zimbabwe", which is the poem's refrain: " I come from, I come from, I come from…" I lived in the United Kingdom undocumented, very precariously and for many years, with the feeling of not belonging to that place; then I returned to Zimbabwe and developed a new understanding of my Zimbabwean identity, as someone who was long gone. I finally managed to make sense of the fact that I come from two places, that both are my home: I spent an important part of my early years living a very Zimbabwean life, but the South East of London gave me a language I now use to express myself. All of a sudden I had developed this dual awareness: how to behave in formal spaces and speak standard English while living and surviving in the South of London, speaking another language, the one most people speak there, characterised by Caribbean and West African dialects. These are the ideas I wanted to explore in this work. The second one, which follows, deals with origins and plays with sounds, blurs words, creates a bit of a mess, because that's what I believe language is: it's about taking what came before us, and playing with it.
Eighth person in the audience: I wanted to go back to what you said, about the fact that in France there is this sort of transparent cloud, which, in general, doesn't allow us to have the conversations we are having now, especially in places as large and vocal as this one. So I wanted to thank you for this exchange.
Moesha 13: Thank you for pointing this out because we can feel lonely at times. And by putting words on it and creating spaces, we are opening avenues, other people start talking and, ultimately, we realise that whether we are from Zimbabwe, Mali, South Africa, or any other country, these issues remain common. We are all able to speak to each other and communicate, and that's what makes us stronger.
Ninth person in the audience: I wanted to ask Eden Tinto Collins about her relation to archives. Earlier you were talking about your project, about how it started thanks to a person who is doing a thesis on Afro-futuristic archives, and I would like to learn more about it.
Eden Tinto-Collins: Thank you for this question. I am happy that we are all together at this point of the conversation. Throughout the day, many concepts related to archives, to working on memory and to knowledge exchange have been shared. The project you are referring to is called Black(s) to the Future and Mawena Yehouessi, who is developing a thesis on this issue in Nice, initiated it. She will submit it in the form of a film, which is the result of a collective work. To make a film, we need to create a story, so it is essential to write and resort to people who are creators and make them co-creators. There is an almost tentacular energy that unfolds between the people she contacts and brings together.
This work originated from a desire to create an archival space, at an international level. It is also about revisiting General History of Africa, which is available on the UNESCO site but remains incomplete. When we realised that it's not possible, actually, to write a complete history, it made us want to think of ways to expand the reality we all share and make it accessible to everybody. Silence has become unbearable and it seems necessary to tell the truth today. Art and all these social moments are part of the therapy: it feels good to see each other, to exchange with one another, to have spaces where we can talk about these concepts, where we can activate them while moving away from theorisation, which can be burdensome at times.
Translation French to English : Zahra Tavassoli Zea
Photography © Grégoire d'Ablon
© Architectes Rudy Ricciotti et Roland Carta / Mucem